About Our Baltimore Junk Removal Company
The best thing about a small business is that we know how to take good care of you, we want you to continue using us whenever you need your junk removed.
Since 2005 we have been working hard in junk removal and hauling. We work hard, we are dedicated, and our never ending approach to excellence guide us in whatever we do. We go above and beyond what our customers expect to bring them the best experience possible.
Serving the Greater Baltimore Area area is an honor, and we hope we can share that with you.
When you choose us for your junk removal, you are choosing a credible business that believes in supporting our community. Your usable items go to charities, the recyclable items go to recycling centers to reduce waste, and all other items are properly disposed of. We even give a portion of our profits towards local charities, schools, and we sponsor local community groups. We understand that we are not here just for profit, but to take care of our local community.
It is such an honor that we have been recognized by several organizations for our work ethic and our dedication to our environment.
When you choose us, you are choosing to:
Support a local family owned small business serving the Greater Baltimore area.

Support our team members, many who are college students and their families.

Support our local community through donations and sponsorships.
Rely on a credible company that:
Has all proper licensing

Carries proper business insurance

Carries worker's compensation

Pays their taxes
Meet some of our team: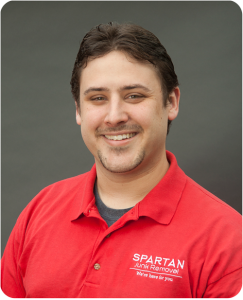 Hi, I am Chris Weir, the founder and Chief Junk Hauler of Spartan Junk Removal. I started junk removal in 2005 when I went with my Grandmother, who was a real estate agent at the time, to a house to get an estimate for a house clean out (it was an estate cleanout) from a big corporate junk removal company. I was hired at that company and I was able to become General Manager for the territory within 2 years of working!
After many years of managing, I decided to go back to school to focus on education and bettering people's lives. After some time, I realized I wanted to open a business and I always loved doing junk removal. I love meeting people, helping them, and making a difference and I was excited to start a venture.
From there I opened Spartan Junk Removal in hopes that I can create a company that takes care of people (both employees and customers), makes a positive change in the world, and one that supports our local community. I hope you enjoyed the time you took to get to know me and I look forward to giving you service that's guaranteed to take care of you!
Schedule Online Now for all your junk and rubbish removal needs!